Posted by Devin Custalow on 3rd Mar 2014
With South By Southwest right around the corner, it's time to start thinking about what to wear! At Longhorn Fashions, we've been planning out the perfect outfits for each day and every style, so you can focus on memorizing lyrics and performance schedules, not stressing over what to wear!
As we have seen the past few days, Austin weather doesn't play by anyone's rules, so let's first assume it's chilly! We have been loving maxi skirts and dresses lately. This printed maxi skirt paired with a simple shirt is perfect for SXSW, and the ombre jean jacket will keep you warm while you're outside! The handmade Buddha necklace adds the perfect pop of color and detail that is great for a music festival! You could pair this outfit with sandals, boots, or wedges along with sunglasses and a big, floppy hat to channel your inner hippy!
If maxi skirts and jean jackets aren't your thing, you could pair this beautiful silky printed top with jeans, leggings, a skirt, or jean shorts! This shirt is a personal favorite; the colors are so vibrant in person! I would personally wear this shirt tucked in with high waisted shorts and fringe boots! The turquoise necklaces add some more color to the shirt, which we love! You're going to a music festival after all, so add some color to your outfit and experiment in ways you wouldn't normally!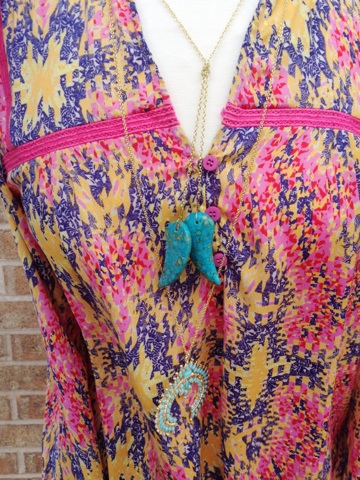 If we have ideal Texas weather, read 80 and sunny, break out the crop tops and shorts! At Longhorn Fashions we've been obsessing over high waisted shorts and crop tops! Mixing prints and textures is the perfect way to experiment with fashion at a music festival, so try pairing neutral lace shorts with a brightly colored crop top! The bright blues and purples in this crop top will pop in the summer sun and will hide any sweat!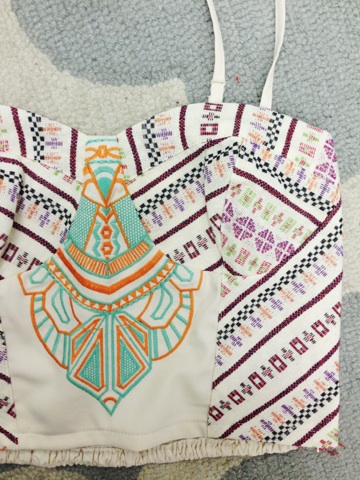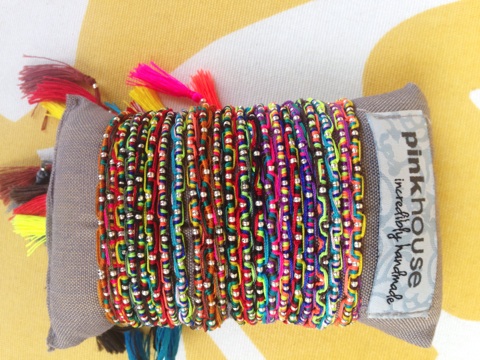 Austin is such an artsy city, and South by Southwest brings in even more artists and musicians, giving you the perfect excuse to play dress up! Try mixing patterns or styles that you would usually shy away from, or wear an accessory that you wouldn't normally incorporate into your outfit like a flower crown or fringe boots! Whatever you wear make sure you wear a smile and enjoy yourself!